ABOUT FLOCK 
---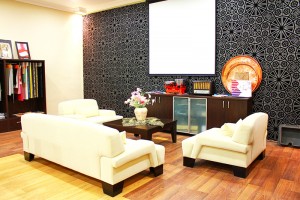 Look around you. The home you live in. The paper you write on. The car you drive. From the carpet you stand on to the chair and the sofa you sit in, the curtain you use at your window, the dress you wear, flock has become an integral part of everyone's daily life.
Flocking facinates because a textile, velvety or brush-like surface may be applied to almost any material.Floked products are everywhere ;flock is found on T-shirts, in packaging for parfumes, car glove boxes, car head liners, flor coverings, model railway-landscapes, eye liner brushe scrubbing pads, and …
Consumers are always looking for something different and unusual. Suppliers seek the same thing – a special item or product that will increase their market share or generate new business. Developing somthing different is always a top priority and is the driving force behind the recent resugence of printer interest in learning about flocking.
Flocking for decoration is not new. Similar methods were used in the middle ages to attach fiber dust to sticky surfaces. It was in the 1970s, with the advent of improved Technologies and adhesives, that floking become a popular decoration method. In the 80s and early 90s flocking popularity faded away and few printers used the process while flocking is not the most widely used decorating process, the average person is aware of its velvet or suede feel.
Over the last several years, however, inquiries about the process have begun to increase, and flocking is once again in demand as a decorating method. Even though flocking may not be most decorator's first choice process at present, It is used widely in many industrial applications. Flocked surfaces reduce water condensation, act as good thermal insulators, and have been used in automotive industry for years for such as glove compertmente boxes, door moldings and window trim.
APPLICATION OF FLOCK
---
Flock applications are manifold and highly tecnical besides the well known automotive applications such as window channels, ABC colums, glove compaetments, trunks, door panels and the flocked textile fabrics and flor coverings. We suggest a sellection of application which may be new to you.
APPLICATION OF FLOCK
---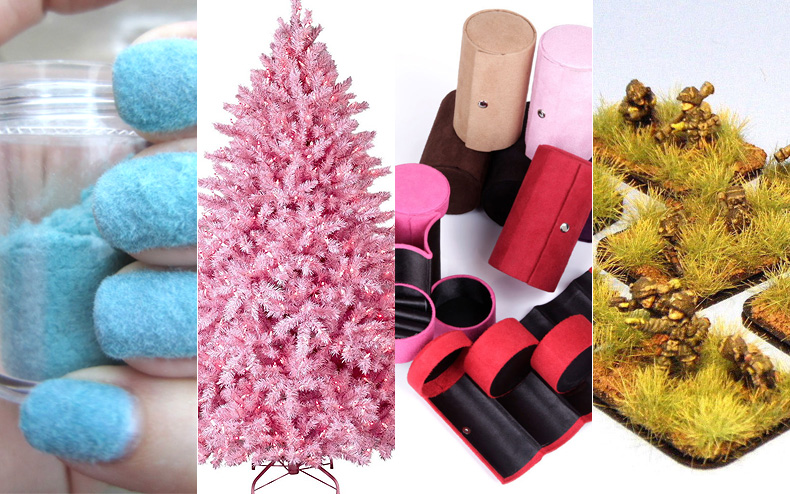 * bread
* forming
* tooth silk
* music notes holders
* loud speaker boxes
* screw drivers handles
* working tables
* photo copiers
* engine covers
* working platforms
* metal cutting tables
* security belt fixations
* plaster roof linings
* eyeglass cleaning fabric
* polishing foils
* dentist tools
* painting cushions
* painting rollers
* roof tiles
* measuring tables
* sauna oven protection
* car window strings
* cosmetic brushes
* cosmetic pads
* textile roller in fabric production process
* springs in window shutters
* upholstery fabric
* curtains ( home textile)
EXAMPLES FOR THE APPLİCATİON OF DİFFERENT TYPES OF FLOCK
---
Automotive
Rubber profiles for exterior use PES 3,3 dtex 0,5 – 0,7 mm
Rubber profiles for interior use PA 0,9 dtex – 3,3 dtex 0,3 mm – 0,7 mm
Sealings for sliding roofs PA 22 dtex 2,0 mm
Glove boxes, trays PA 1,7 dtex 0,5 mm – 6,7 dtex 1,0 mm
Functional parts, (belt slides etc.) PA 3,3 dtex 0,3 mm – 6,7 dtex 1,0 mm
Screws PA 22 dtex 2,0 mm
Textile
T-shirts, sport dresses Viscose 5,6 dtex 1,0 mm und 3,3 dtex 0,5 mm
PA 3,3 dtex 1,0 mm
Upholstery fabric PA 1,7 dtex 1,0 mm – 3,3 dtex 1,6 mm
Apparel PA 1,7 dtex 0,5 mm, Viscose 3,3 dtex 0,5 mm
Carpets, door mats PA 22 dtex 2,0 mm
Packaging
Vacuum formed parts PA 1,7 dtex 0,5 mm – 3,3 dtex 1,0 mm
Card board PA 1,7 dtex 0,5 mm
Viscose 3,3 dtex 0,5 mm – 5,6 dtex 1,0 mm
Displays, presentation trays PA 1,7 dtex 0,5 mm – 3,3 dtex 1,0 mm
Sauna Ovens
PA 6,7 dtex 1,0 mm – 22 dtex 2,0 mm
Toys
Animals PA 1,7 dtex 0,5 mm – 3,3 dtex 1,0 mm
Landscapes for model railways PA 22 dtex 2,0 mm
Rubber Foam
PA 0,9 dtex 0,3 mm – 6,7 dtex 1,0 mm,
Viscose 3,3 dtex 0,5 mm – 5,6 dtex 1,0 mm
Rubber Gloves
Interior flocking Ground cotton
Crockery
China PA 1,7 dtex 0,5 mm – 0,75 mm
PES 1,7 dtex 0,5 mm – 0,75 mm
Glass
PA 1,7 dtex 0,5 mm – 0,75 mm
PES 1,7 dtex 0,5 mm – 0,75 mm
Paper and cardboard
Post cards PA 1,7 dtex 0,5 mm – 0,75 mm
Posters PA 1,7 – 3,3 dtex 0,5 mm – 0,75 mm
Cosmetics
Eye shadow applicators PA 0,9 dtex 0,5 mm
Lip gloss applicators PA 3,3 dtex 1,2 mm